Grupo de adolescentes:
uma experiência educacional na atenção primaria em saúde -Bahia- Brasil
Silvana Gomes Nunes Piva

Universidade do Estado da Bahia Campus

Luana Rodrigues dos Santos

Universidade do Estado da Bahia Campus

Fabiane da Silva Santos

Universidade do Estado da Bahia Campus

Jenifen Miranda Vilas Boas

Universidade do Estado da Bahia Campus

Isadora Rios da Silva

Universidade do Estado da Bahia Campus

Gizélia dos Santos Souza

Universidade do Estado da Bahia Campus
Palabras clave:
Adolescência, Educação em saúde, Atenção Primária em saúde, Estágio Supervisionado., Adolescence, Health Education, Primary Health Care, Supervised Internship.
Resumen
Resumo 
A adolescência inicia-se com as mudanças corporais da puberdade e termina com a inserção social, profissional e econômica na sociedade adulta, sendo considerada uma época de grandes transformações, as quais repercutem não só no indivíduo, mas em sua família e comunidade. Este estudo teve como objetivo descrever sobre a experiência da implementação de um grupo de adolescentes na Atenção Primária em Saúde (APS) de um Munícipio da Bahia, por estudantes do Estágio Supervisionado I, disciplina do 8°semestre do curso de Enfermagem da Universidade do Estado da Bahia Campus-VII – Bahia- Brasil. Trata-se de um relato de experiência, exploratório e qualitativo, desenvolvido através de rodas de conversa com as adolescentes, que buscou proporcionar um momento de interação e troca de conhecimento sobre questões diversas que envolvem o período da adolescência e sexualidade. Assim, foi possível perceber na prática do estágio na APS a importância da educação em saúde no âmbito escolar e do desenvolvimento de atividades educativas extramuros da Unidade de saúde, pois estas ações permitiram aos adolescentes vivenciarem o processo de aprendizagem em grupo compartilhada com profissionais de saúde. Este espaço permitiu as adolescentes conhecer mais sobre seu corpo e o seu processo de transformação, discutir sobre cuidado em saúde, conversar sobre suas vivências, sem medo de represálias, ou vergonha do que estão pensando ou consideram certo ou errado. Está ação colabora para o desenvolvimento da Promoção, Prevenção e recuperação da saúde de adolescentes nos espaços comunitários e sociais.
Abstract 
Adolescence begins with the corporal changes of puberty and ends with the social, professional and economic insertion in adult society, being considered a time of great transformations that affect not only the individual, but also his family and community. This study aimed to describe the experience of implementing a group of adolescents in Primary Health Care (PHC) of a municipality of Bahia, by students of Supervised Internship I, discipline of the 8th semester of the Nursing course of the State University from Bahia Campus-VII - Bahia- Brazil. This is an experience report, exploratory and qualitative, developed through conversation circles with adolescents, which sought to provide a moment of interaction and exchange of knowledge on various issues involving the period of adolescence and sexuality. Thus, it was possible to realize in the practice of the internship in PHC the importance of health education in schools and the development of extramural educational activities of the Health Unit, as these actions allowed the adolescents to experience the learning process in a group shared with health professionals. . This space allowed the adolescents to know more about their body and its transformation process, discuss health care, talk about their experiences without fear of reprisals, or ashamed of what they are thinking or considering right or wrong. This action contributes to the development of the Promotion, Prevention and health recovery of adolescents in community and social space.
Descargas
La descarga de datos todavía no está disponible.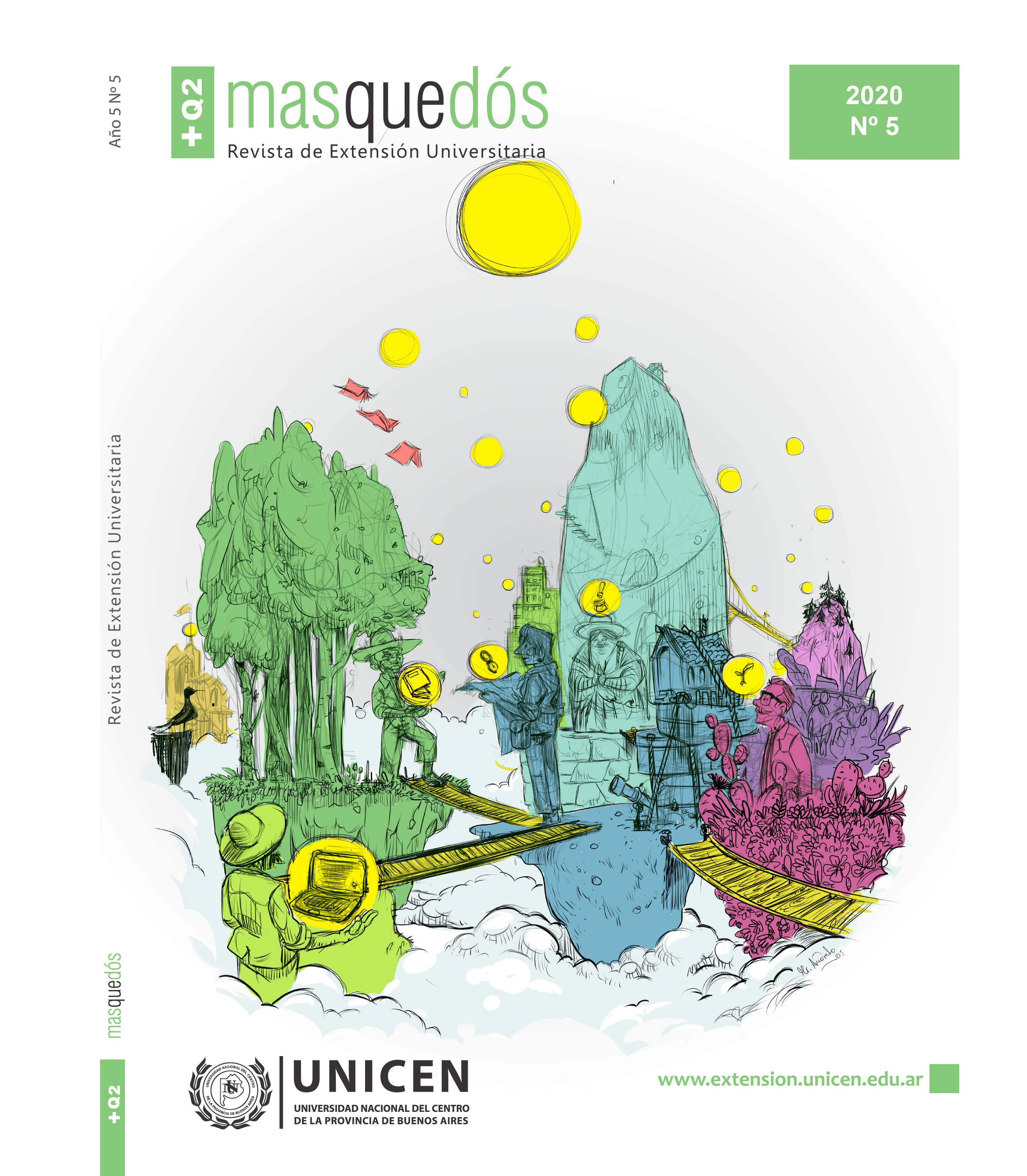 Cómo citar
Piva, S., dos Santos, L., Santos, F., Vilas Boas, J., da Silva, I., & Souza, G. (2020). Grupo de adolescentes:. Masquedós - Revista De Extensión Universitaria, 5(5), 10. Recuperado a partir de https://ojs.extension.unicen.edu.ar/index.php/masquedos/article/view/58
Sección
Mirada Latinoamericana
Masquedós autoriza la reproducción parcial o total de los textos siempre que se cite la procedencia. La propiedad intelectual de los artículos es exclusiva de los autores. Para ello los autores una vez aprobado el trabajo deberán firmar la cesión de derechos, para la publicación. Las opiniones vertidas en los artículos son de exclusiva responsabilidad de los autores y no reflejan necesariamente la posición del equipo de la revista.
No se cobran cargos a los autores por la publicación de artículos.